Sanitation
Shue Brothers has a sanitation solution to meet your needs and our commitment to recycling helps to preserve our environment's needs.

For the individual, we offer curbside pickup for your individual bags. This service is available weekly or every other week in Lewis county and northern Oneida county.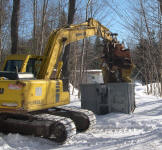 For individuals and small businesses, we offer 2, 3, 4 and 6 yard dumpsters with weekly, bi-weekly or monthly pickup. This service is available in Lewis and northern Oneida counties.
For your demolition/construction jobs, Shue Brothers offers roll-off containers in 10, 20, and 30 yard sizes. This service is available in most upstate areas. Give us a call for scheduling.

Whatever your sanitation needs, Shue Brothers will work with you to come up with a solution.